(Whitetail Workshop attendee testimonials and kill shots at bottom of page)
2018 Whitetail Workshop weekend projected dates:  April 28/29 and June 2/3. Later workshop dates to be announced.
Each Workshop will be limited to 10 hunters each so there can be some personal Q&A.

What are these 2-day workshops about?
Whether you're hunting public land, knock-on-doors for free permission, family owned, leased or managed property, or you travel hunt; attending an Eberhart's Whitetail Workshop or having John personally scout a property will provide the insights to make you a serious threat to any buck you pursue.
Make no mistake, Eberhart's Whitetail Workshops are NOT land management workshops, they are educational workshops for hunters with the desire to learn how and what to do to take mature bucks no matter where they currently hunt or will hunt in the future.
Why John Eberhart for a workshop or to scout a property? In 53 seasons John's scouted 18 parcels of public land and dozens of knock-on-doors for free permission properties in Michigan (most heavily bow hunted state in the country with 320,000 bowhunters). 31 of John's Michigan bucks are listed in the Commemorative Bucks of Michigan record book and they were taken off 19 different properties in 10 different counties. He's also taken bucks from 13 different parcels of public land including a state record in 1981.
In 1997 John began bowhunting out-of-state during Michigan's gun season and to date has taken 19 P&Y bucks on his 22 week long trips and they came from 13 different properties in 5 different states. Knowing what to look for when scouting and how to set up on it and hunt it obviously had a lot to do with his near 90 percent success rate on properties he'd never seen let alone hunted before.
John's 31 Michigan book bucks and 19 out-of-state book bucks bring his total record book buck count to exactly 50 and they came off 32 different properties.
There are thousands of hunters in the United States that have many bucks in the record book but most of them have taken them from either; spectacular pieces of managed property, pay to hunt ranches, or they hunt in lightly hunted states or areas.
The real qualifier that separates John's accomplishment from any other whitetail bow hunter in the country is that 100% of his hunting has always exclusively been on public, free walk-on, and knock-on-doors for free permission properties. He's never owned, leased, hunted a managed property, hunted a relative's property, or paid a dime to hunt anywhere, and has never hunted over a food plot, bait, or mineral lick.
Many hunters spend hundreds if not thousands of dollars of their hard earned money on; constantly upgrading their hunting equipment, buying new gadgets advertised on TV, bad ass looking vehicles, bait, land management, tricked out quads, hunting stands, etc., with the thought process that it will magically make them more successful, and that can't be farther from the truth.
Then there's the aspect of utilizing your time to its fullest potential because free time is not only precious; it has value. Scouting, location preparation, practicing, hunting and even traveling to hunt all consume the limited free time many hunters have, especially those with kids and families, so take advantage of John's 53 years of experience, knowledge, and kill credentials by allowing him to show and tell in detail how to utilize your time to its fullest potential.
There's an old saying that's very true, "it's not the bow, it's the Indian" and John wants you to become that Indian. Having awesome property and the best equipment money can buy is irrelevant if your hunting skills and strategies don't offer you the opportunity to use them.
Whether hunting public or private, spending a lot of time on stand in locations not well-suited for daytime mature buck activity should never be an acceptable strategy or plan, so make this one time investment to assure you're in the right types of places, their prepared properly and you're hunting them at the right times of day and season. After all doesn't it get a bit old taking nice pictures of good bucks on your property and not being able to kill them.

Eberhart's Whitetail Workshops are 2 day events with day one taking place on a 170 acre free permission farm consisting of only 37 acres of huntable timber and swamp. John's hunted the property for 9 seasons with 2 other hunters and has taken 6 record book bucks from it while the others have taken none and they've each hunted it for over 20 years.
Each of John's 14 locations will be visited and he will show and explain; how he hunts from a harness system, location preparation, why entry and exit routes are oftentimes different for each location, required stand heights per location, quantities and widths of shooting lanes per the location, primary scrape areas, destination feeding locations, hunting within bedding areas, proper seasonal and daily timing, how critical perimeter and transition security cover is at each location for opportunities at mature bucks, fake tactics, scents, how a proper scent control regimen dramatically improves success rates and much more.
John will also explain how to scout and hunt public lands that get pounded with pressure.
Day two will be an in-classroom seminar on the finer details of taking mature bucks no matter the type of property you hunt on. John will go into detail on his; scent control regimen, scouting and location preparation, tools used for location preparation, gear to take hunting, differing types of steps and sticks,  daily and seasonal hunting strategies and techniques, how to very strategically hunt within bedding areas, hunting primary scrape areas, how, when and under what circumstances to use fake tactics, how to begin hunting out of state, out of state strategies, mapping properties, the importance of being patient and every other hunting topic imaginable.
John's van will also be parked outside and be loaded just as if he's going hunting and he will go through everything in it in great detail including his scent control dressing process which when hunting takes him less than 5 minutes to get ready. Of course John will welcome all questions as he feels there is no hunting situation he hasn't dealt with during his 53 seasons.
Scouting Properties is also something John will be doing and he will travel to scout whatever property you want including public or private and show you based on the hunting pressure in the area; where hunting locations should be prepared, how they should be prepared, how to enter and exit them, what tactics might work at each, what time of season and day they should be hunted, and how to hunt in heavy hunted areas and be successful.
John's hunting resume and kill credentials have always been focused on taking mature bucks in heavily pressured areas and it's a non-disputable fact that once you learn the skills to take mature bucks in heavily pressured areas, you can go absolutely anywhere with those skills and successfully pursue the best bucks the area has to offer.
Begin utilizing your scouting and hunting time to its fullest potential by attending an Eberhart's Whitetail Workshop or having John scout whatever property you hunt.
To sum up what these workshops are about, no matter what weapon you use; if:
-You hunt public land or in a heavily pressured area and struggle to see, let alone take bucks and feel lost trying to figure out what to do….
-You're a hunter that was mentored with old school hunting methods and you struggle taking mature bucks….
-You're a hunter that has relies on the expense and routine of hauling bait to see deer….
-You've spent thousands of dollars in support of land manipulation and quality deer management, yet struggle to kill the big bucks caught on your motion cameras….
-You're a passionate hunter but can't seem to get a handle on how to choose locations, how to prepare them, how to enter and exit without spooking deer and what's the best daily and seasonal time to hunt each location….
-You hunt the same few stands all season and wonder why you never see the big boys that you know are in the area…
-You get nighttime camera photos of big bucks yet struggle to get daytime opportunities….
-You get winded or your scent control is such that you have to hunt according to wind direction….
-You're a novice deer hunter and want to cut years off your learning curve….
If you fall under any of the above categories or have other issues hampering your success, the training and skillset you will obtain at one of my workshops will allow you to complete the deer hunting puzzle. Hunting mature bucks is like a big puzzle and the more severe the hunting pressure, the more complex the puzzle pieces. No matter the difficulty however, the pieces will fit together. My goal is for you to learn the skills to be successful in pressured areas and once that's accomplished you can go anywhere in any state in the country and consistently put yourself on the best bucks the area has to offer.
I want deer to fear the moment you show up!
2018 Eberhart's Whitetail Workshop dates and costs:
Weekend Workshops will be held in central Michigan on these dates: April 28/29 and June 2/3. Workshop dates beyond that will be announced later.
Click on the "attendee information" link at the top of this page for event information, locations and lodging.
Each 2 day in-field/classroom Workshop event will cost $600 – In/field day held on property John's hunted for 9 years and classroom day held in Jay's Sporting Goods, Michigan's largest hunt/fish/camp store.
Young adults and kids under the age of 16 that are accompanied by a parent or guardian will cost $300
Lodging and meals not included
If attending a workshop please put the weekend dates you will be attending and your phone number in the memo portion of the check or on a separate note and make check payable to and send to:
John Eberhart
1219 Queensway Dr.
Weidman, Mi. 48893
Call John in evenings or on weekends with any questions at: 989-644-6067 or e-mail John at: deerjohn51@gmail.com to schedule an available workshop date or to have John scout a property.
Payments are non-refundable but John will be happy to schedule you on a future workshop date.
2018 seminar dates and locations:
-Done – Outdoorama in Novi Michigan-March 1-4, 2018 (6 seminars)
-Done – Ohio Deer & Turkey Expo in Columbus Ohio-March 16-18, 2018 (5 seminars)
-Done – Akron-Canton Hunting Fishing and Outdoor show in Akron Ohio-March 24&25, 2018 (2 seminars)
_______________________________
2018 Workshop testimonials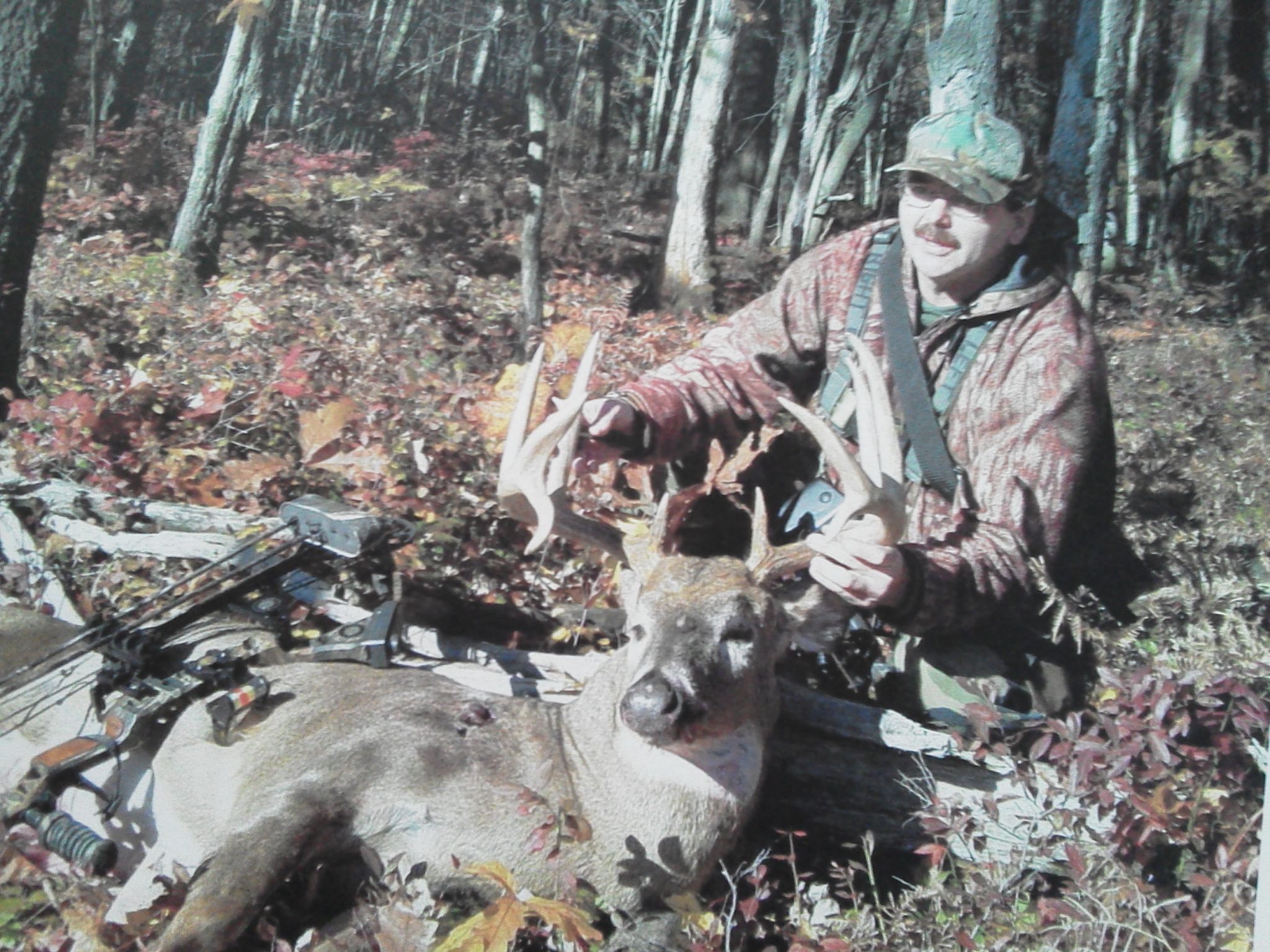 John
I attended your Deer Hunting Workshop last weekend (April 14/15) and even though it snowed, sleeted and then rained during the in-field day it was a really good experience! I particularly liked the nasty weather in-field day where many of your stand sites were looked at, explained and thoroughly examined. Stand sites and shooting lanes in relation to cover, stand height, reasons for approach, entries and exits to each stand, the importance of seasonal and daily timing in relation to the hunting phases, and also the many advantages of hunting from a saddle were covered in great detail.
You answered all of our questions with in depth answers and very simply put just covered all the bases.
I also liked Day 2 as well as you covered all the equipment, reasons and how a scent control regimen is achieved in detail. No stone was left unturned in this session.
One thing I really enjoyed was when all of us had a turn at speaking about our experiences as hunters and what brought us to the activity of hunting for whitetails. Meeting the guys that were in this group was pretty neat as after only a couple of days I felt like some good friendships were established.
Having your books and DVD's (read and watched cover to cover!) also helped tremendously in this workshop and seeing your methods first hand in the real deer woods just further shows how this works and comes together for success!
You were extremely helpful and so down to earth, it was a pleasure attending and I would highly recommend any serious deer hunter to attend one of your workshops. Attached is a public land buck I took a few years ago.
Thanks so very much John and good hunting!
Tony – Pennsylvania
2017 Whitetail Workshop attendee testimonials:
This has been my first year of hunting and it's been a pretty great season so far. My Dad and I have been practicing and scouting a lot before the season started and this past summer he took me up to one of John Eberhart's workshops in Michigan. My Dad has John's books and DVD's and really likes his methods for scent control, scouting, setting up in the right tree, and the use of tree saddles. I met a lot of great guys who seemed like experienced and serious hunters and they were excited that more and more young girls are getting into the sport. I learned a lot that weekend and had an awesome time.
A few months later I shot my first deer, an eight point buck. My Dad was stunned that I shot the buck he was after, but was very proud and happy for me.
We started hunting our all-important pre-rut locations on Wednesday, November 1st and we sat in the rain for the afternoon hunt and I saw a lot of chasing. We came back on Friday for an all-day hunt and again it was raining. We settled into our respective trees an hour before daylight and the morning action didn't seem as intense as it was on Wednesday afternoon.
I wanted to move in closer to the primary scrape destination location and at 10:45 we got down and both moved in closer. I was nicely tucked up into the crotch of a tree approximately 22 feet off the ground and at 2:30 the chasing began again as an immature buck was chasing a doe through the area which woke me from my nap in the tree saddle. I waited to see if a bigger buck was going to join the action. Sure enough there he came down the same trail the doe had blazed running from the smaller 6 point a few moments before.
Losing interest in the commotion he stopped 17 yards from my tree and at this point he was directly downwind. I had paid attention during the extensive scent control regimen portion of both the in-field day and seminar class leaving this buck with no clue I was there.  I was wearing my ScentLok Wild Heart Savanna suit which was wore under my washed in scent free detergent rainsuit, and my ScentLok Vigilante headcover with drop down facemask.
Because I was using a saddle I was able to twist my body around to make the difficult shot to my left (I'm left handed), but it's a shot I practiced during the summer after attending John's workshop and having him mention that you need to practice every possible shot position.
I wasn't sure if it was a good shot until I saw him bed down and try to get up, stumbling around as he did. I texted Dad and told him what had happened and he told me to keep an eye on him and wait about a half an hour until he came over.
I stayed in my saddle and pointed to the area the buck was in, and Dad followed the bright red blood trail to the expired 120 inch 3 year old 8 point. I was really excited but I think dad was more excited than me.
My big brother said, "When you shook John Eberhart's hand and the magic touch passed on to you" Thanks John for the awesome workshop and for the magic touch… LOL
Later that week my dad was hunting on public land and had 2 mature does and their fawns come in from upwind and both does visually picked him in the tree. Dad intently watched as both does circled around him to the downwind side while keeping their eyes focused on him. Once directly downwind they tried to wind him and couldn't and after several minutes flicked their tails to call the fawns over and casually moved off. Dad was already a firm believer is ScentLok and that sealed the deal.
Lauren Nowak – 14 years old from New York
___________________________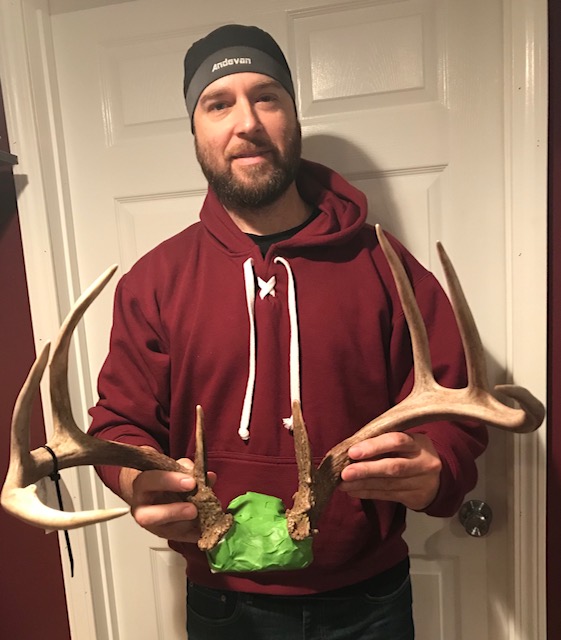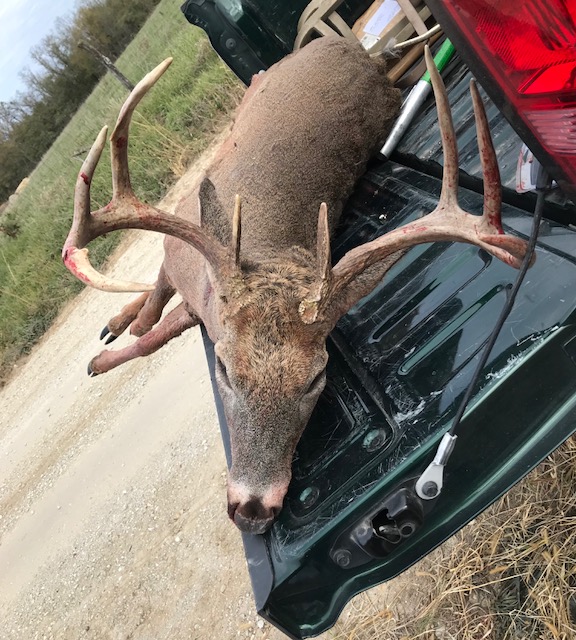 John
I've been bowhunting for 26 years, and in the last 8 seasons since discovering your books and seriously implementing the Eberhart Way of bowhunting have taken 7 P&Y class bucks all of which were 3 ½ years old or older. In my previous 19 seasons I took several year and half and a few 2 ½ year old bucks and all their antlers are in a box. The before the Eberhart Way and after results are nothing short of shocking as all 7 of the after the EW bucks are mounted and on my walls. Implementing what's in your books, articles and videos has changed me from an occasional subordinate buck killer to a consistent mature buck killer and it happened immediately.
I attended your workshop in September and it was by far the most enlightening and informative piece of the consistency puzzle. Since implementing the scent control chapters in your books I haven't even considered wind direction and your workshop added a lot more info on the topic.
A recent kill was yet another feather in the cap on how a proper scent control regimen negates wind direction. I watched as this mature buck casually came in from 150 yards directly downwind and never even paused while closing that distance to 22 yards. I prepared this location in the spring for my sling, was the first time on stand, was on stand an hour and a half before daybreak, it was during pre-rut, and I was practicing a proper scent control regimen. All those things did their part, the rest was up to my marksmanship which do to in-season-practice from a similar height, did not fail. A relaxed, clueless, dead downwind mature buck took my arrow through both lungs and didn't run far! The buck coming in and me taking him sounds and seems easy, but that was possible because all the aforementioned attention to detail that's meticulously outlined in your materials and workshop were followed. Thanks to the Eberhart Way, another P&Y buck falls hard!
David Ferianc – Michigan
________________________________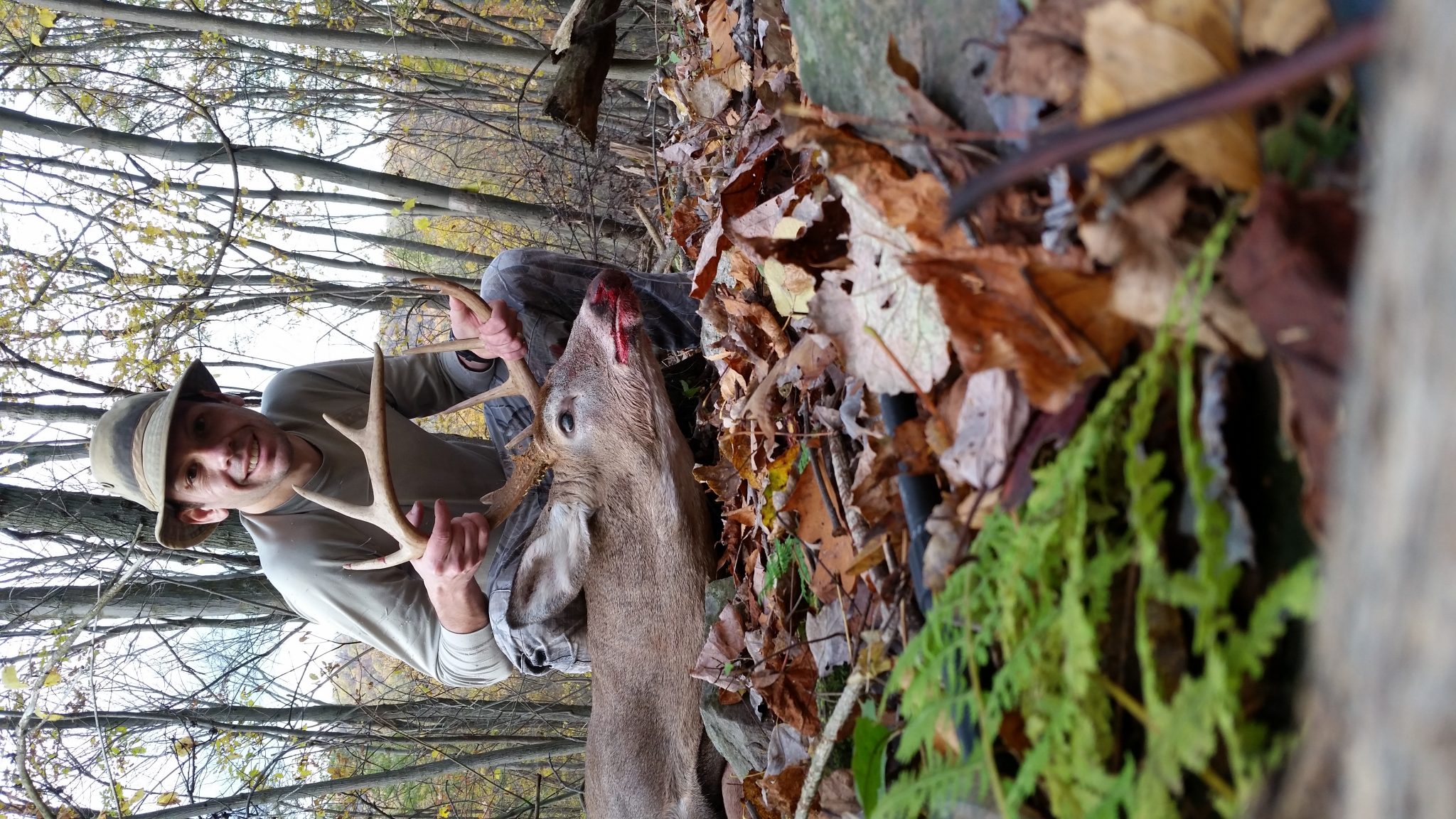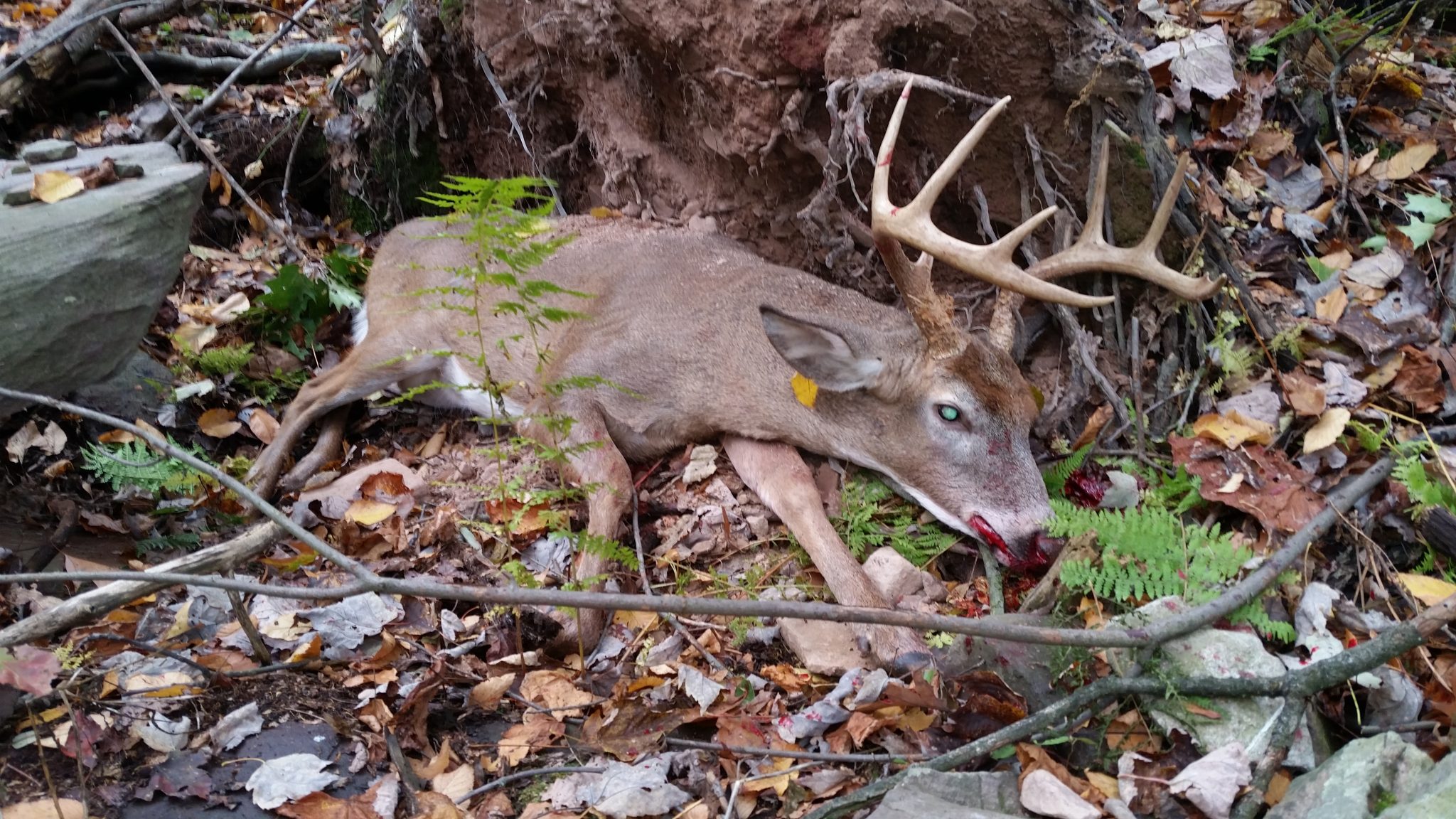 John
I want you to take some credit for the attached 10 point I took November 3rd, 2017. He's my biggest buck and a rarity for the heavily pressured area I hunt in Pennsylvania. I'm calling him my birthday buck even though it was on the 2nd.
I've read your books and watched your videos in the past two years and this year attended your August 12/13 whitetail workshop which visually helped to confirm your instructional information. During post season I prepared several trees on public and private lands and have hunted each location once and had bucks and does within 50 yards each time. Attending your workshop made me realize the importance of patience and saving my best spots for the rut phases and I specifically waited until Halloween to hunt them. I set up at locations with either scrape's, rubs, converging runways or a combination of them and made sure they had adequate security cover for daytime visits. While it was a struggle at first, I also paid no attention to wind direction because I was following your scent control regimen and it worked perfectly as I had deer linger and pass by downwind on several occasions without a trace of detection.
On the 3rd, I went in for an all-day hunt and at daybreak noticed 5 converging runways instead of only the 3 that were there in post season when I prepared the location and two of them had rubs along them making me think they were routine routes. Since preparing the location one branch had grown enough to partially block a runway so around 2:45 I climbed down, clipped it off and got back up into my harness. Almost immediately I heard a deer running towards me and it was a buck and he stopped right under my tree. As he was walking away I came to full draw and made a vocal doe bleat (as you showed in class) to stop him and he stopped right where I cut that branch off. I took the 8 yard shot and watched as he ran about 50 yards and tipped over. What a RUSH!
Thanks for being a teacher and sharing your knowledge with hunters.
Ryan – Pennsylvania
Side note from John: While it's a nice gesture, I refuse to take any credit for your kill. Taking a good buck requires a lot of time and hard work, I may have laid out what to do, but you had to do it and make the shot and recovery.  Great job Ryan
______________________________
John, I wanted to share this with you…
After attending your 2 day workshop back in July, I re-analyzed my property and early season stand locations which has been a weakness of mine. I kept focus on what you shared about setting up on very specific destination locations that offered perimeter and transition security cover and I have an isolated waterhole in very thick cover between a couple bedding areas. I've never hunted it because I deemed it too risky since the water is the only attraction and it's so close to the bedding areas. After talking with you I went in and prepared a tree for my saddle and cleared out an access trail to be able to slip in and out quietly.
I knew there were two good bucks in the area and that waterhole was the only water for about 1/2 mile in any direction during dry seasons which this has been. I went in on opening evening and noticed lots of tall rubs leading to and from the bedding areas and had several deer come in and drink. I had to get back in there again before the forecasted heavy rain lessened the appeal of this secluded water source.
I had a great hunt, complete with over a dozen does and fawns hitting the waterhole followed by 4 different yearling bucks. Then just before dark the small bucks became noticeably edgy, and kept looking back into the thick cover. I've hunted long enough and taken enough bucks to know exactly what that meant and sure enough a good buck was quietly slipping along his rub-lined trail heading to water. Once within distance and after making sure the other bucks were focused on him I quietly drew my bow and shot him in the lane I cleared at about 12 yards. He went about 50 yards and crashed within sight.
During the hunt I checked the wind several times and every time got a different result and although the wind was swirling in all directions, not one deer winded me. I don't know that I would have had the confidence to put this hunt together without seeing your scent control regimen and seeing and hearing your strategies first hand, so I thought you would like to hear that.
Though he isn't my highest scoring Michigan buck due to many out of symmetry deductions, he's a mature buck and I'm very proud of him. While I've been a successful bowhunter over the years, I would like to say thank you for helping me take my hunting to the next level!
Dan Taylor – Michigan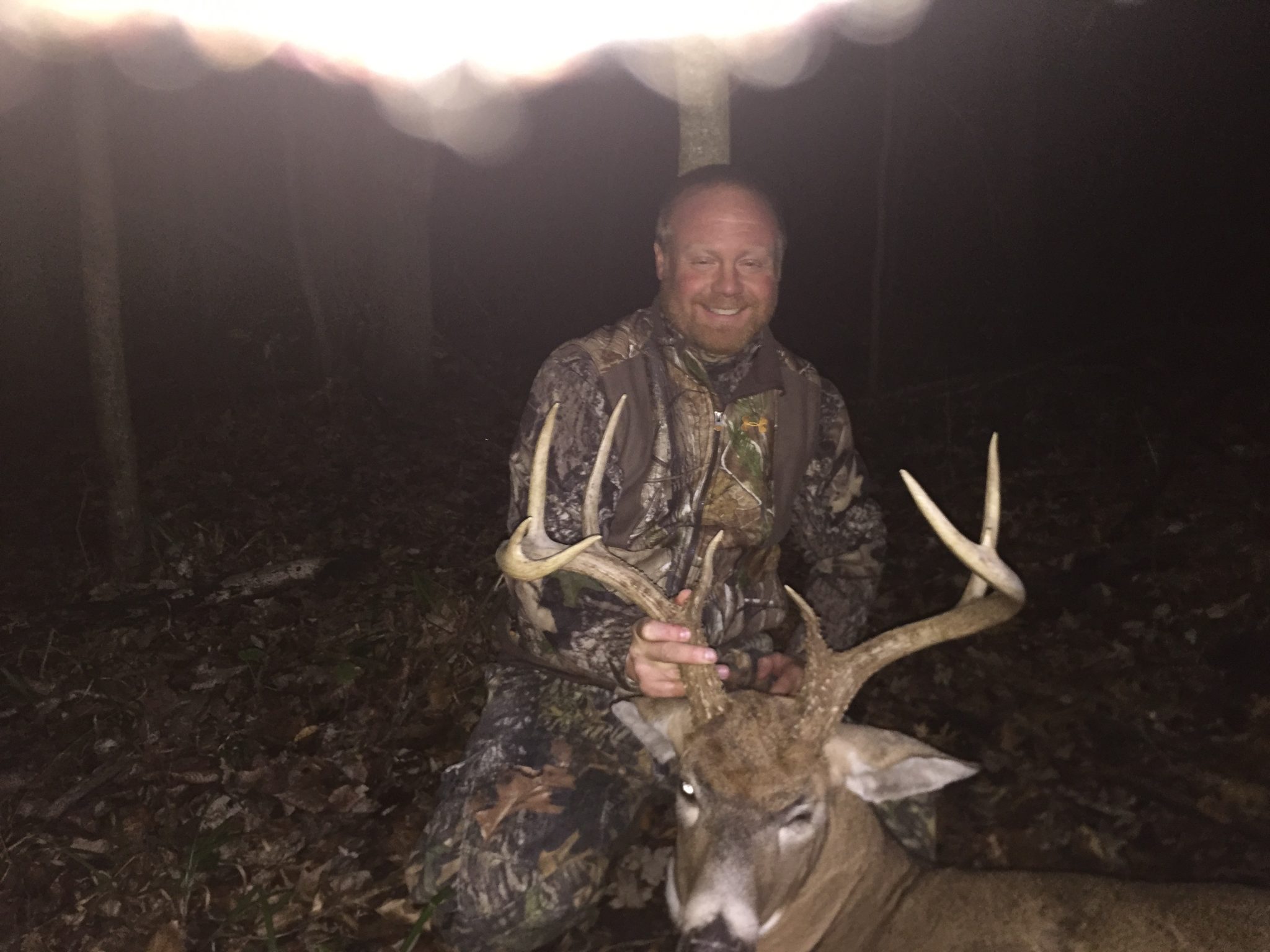 ___________________________
Damn, what great September 23rd and 24th weekend!!!
I had the pleasure of spending it with John, and hunters from Michigan, Wisconsin, Illinois and Ohio. John has a great proven mature buck hunting system that he demonstrates thoroughly.
I like how he keys his efforts on hunting directly over destination spots, whereas I would focus on trails leading to destination spots.
Great scent control information and a walking encyclopedia on Scent-Loc gear.
You couldn't find a better place to find knowledge for hunting from tree saddle style set ups. I never hunted from this system in my life. I walked away this weekend feeling like I have been using saddles my whole life. I will be investing in a harness over the winter and plan to be ready to hunt from it next season. I have a spot on my private property where this system would trump any other way to hunt this certain location.
I also plan on hunting a few public land spots in the future and this method is the ticket for a easy, light weight tactic for hunting secluded hard to reach areas.
Don't let age detour your thoughts on hunting saddles, if you can climb a tree you can hunt comfortably from them. I now know several people into their 60's using these harnesses.
Great weekend and Time Well Spent!!
Rich Hutton – Michigan
_______________________
After spending the day with John Eberhart, who undoubtedly is one of the best whitetail hunters in Michigan, if not the country, I came away with a much better understanding of how and what has made him so successful. It is one thing to read John's informative books and many articles detailing his methods and techniques, but to actually walk and observe his hunting environment is the ultimate learning experience.
Not only is John a great whitetail hunter, but he is also an informative teacher as well. John's willingness and receptiveness to answer any and all questions posed to him while in the field was an invaluable resource to have available to myself as a participant and a student.
Finally, John's individualistic approach, personal style, wealth of Information, and devotion to detail are all well worth the investment of time and money for the whitetail enthusiast. I would certainly recommend adding this experience to a whitetail hunters bucket list.
Ron Moesta – Tustin, Michigan
___________________________
I attended John's Whitetail Workshop in September 2017, and I was really impressed!
John goes through in detail why he chooses stand locations, how he sets them up, where and why he clears shooting lanes, when he hunts specific locations, how he enters and exits these stand locations, not to mention a lot of good information about hunting from a saddle and just bow hunting in general.
John's experience and success in a pressured state like Michigan is second to none, and comparing the cost of this workshop to most hunters who spend hundreds if not thousands of dollars every year on hunting equipment, the cost is well worth every penny!
Gary Richards – Ohio
___________________________
I attended John's workshop and found it very worthwhile. John's success over many years in a high pressured state like Michigan speaks for itself. The field day really opened my eyes to the importance of stand location and preparation, shooting lanes, entry and exits, what time of day a location may be best suited for, where to hunt during different times of the season, and the advantages harness saddle hunting can provide. I would definitely recommend this workshop to deer hunting enthusiasts that want to listen and learn about an approach that has worked incredibly well for John.
Kip Cotter – Michigan
__________________________
John
Thank you for organizing your Whitetail Workshop. It was an outstanding opportunity that I am glad I participated in and even though I had already read your books and watched your DVD's, which are very informative, the workshop was the icing on the cake.
There is no substitute for getting out into the field and seeing for yourself what your books and DVD's are discussing. Attending the workshop will enhance my recognition of transition areas, primary scrape zones, destination locations, bedding areas, & how to enter & exit (UNDETECTED) the properties I hunt.
Showing where and how you set up on a hunting property and then discussing your strategy for hunting the entire season on that property was enlightening as was witnessing how you set up trees, prepared shooting lanes and deciphered entry and exit routes.
My take away from the workshop was priceless. For those that want to observe and learn successful techniques for hunting mature whitetail bucks, you owe it to yourself to attend Eberhart's Whitetail Workshop.
Tom Trace – Ohio
______________________________
You know the old cliché of, "a picture is worth a thousand words"? If that's true, then being there in person is worth ten thousand. There's nothing like standing next to an instructor, having them point to something, and being able to just look and see it. That's what I experienced at John Eberhart's Whitetail Workshop I attended in late September and what I valued most. It was enlightening to stand next to John while he physically pointed out security cover, bedding areas, the right tree for the location, and why certain shooting lanes are cut. Then John would disappear up the tree he had prepped for that location and I then began to understand his success as a trophy whitetail hunter.
The second day's training on his scent control regimen and DIY hunting was icing on the cake. I also appreciate that John encouraged any and all questions and didn't end any session until everyone's questions were answered. If you are interested in being a better hunter, especially for mature whitetails, John's workshops are worth your time and investment.
Avid Whitetail Enthusiast, Troy Parsell
______________________________
What John's whitetail workshop did for me.
Enhanced skills were learned.
Made me think about my current habits that can be improved such as ways to enter and exit stands to minimize spooking game.
Showed me how to use the tree saddle to maximize comfort and mobility.
How to utilize natural food sources and choose the right tree to create a great location setup and then decipher what time of season and day is best for each hunting location.
How to save money on tree steps and how to put them into the tree.
Shooting lane preparation that maximizes chances of getting off a shot.
Best tools of the trade that will reduce the amount of effort needed to prepare a location including preparing a tree, shooting lanes and entry and exit routes.  
The scent control portion is a must for anyone interested in becoming undetectable from the whitetails ability to smell you at levels strong enough to alarm them.
The regimen required for scent control requires discipline. John will help provide the information required to properly care for all of your hunting clothing as well as provide recommended suppliers of great hunting clothing. You will also learn great tips on how to keep warm on stand when the temperatures get low.
The whitetail workshop is a great way to enhance you hunting knowledge and improve your chances for success in the field.
Steve Thomas – Michigan
______________________________
John
It was nice meeting you and Lynn. I appreciate the opportunity to see your set ups and learn how you go about hunting.
I wish I would have learned from you 20 years ago. It would have saved me a lot of time and money and my success would have been much better. I have spent a small fortune on deer hunting products but your workshop was by far the best money I have spent. It was very helpful spending time in the woods and seeing how you anticipate deer movement and set up for the shot. Thanks for your help with my saddle as I can't wait to hunt with it this fall.
Thanks for everything. I hope our paths cross again – Steve Lamie
____________________________________
John
I really enjoyed your workshop as it was so helpful being in the woods and seeing your hunting locations and the reasons they were chosen. While my hunting is primarily hill country, your approach was the main takeaway for me in finding my areas particular patterns based on the knowledge you gave.
Your scent regimen you so willingly shared and the use of Scent-Lok and other things done in conjunction with it will be a game changer for me.
I chose your workshop because I respect your style of hunting and the way you analyze and dissect deer patterns as well as you using the tree saddle/sling harness system. – Steve Boggs
_____________________________
John
Before I came I read your book PRECISION BOWHUNTING in which you cover most whitetail hunting topics in great detail. However your workshop gave me the perfect opportunity to see firsthand how you actually do thing such as prepare your hunting locations and entry and exit routes as well as plan out in detail your seasonal hunting plan for that particular property.
As a self-taught hunter, attending your two day workshop allowed me to talk to you and confirm the hunting strategies taught in the book. I appreciated your willingness to answer all my questions in detail on how to hunt pressured deer in my home state of Pennsylvania and for answering the many questions asked by the other attendees.
Your attention to every detail has inspired me to become a better hunter and you also clarified a few misconceptions I had about hunting. I feel more confident and am excited to apply your hunting strategies in my hunting excursions.
Thanks again for offering such a great interactive workshop.
Ryan Smoker – Pennsylvania
______________________________
Being a late starter to bowhunting ( 38 yrs old ) and with no family members that hunt, I got some helpful advice from some friends my first year that got me launched. I ran across John's books and DVD's shortly thereafter, and like many others have tried to emulate his success. After hunting with my young sons for the past few years and now having the opportunity to introduce my eager 14 yr old daughter to the activity of bowhunting, she wanted to join me in attending one of John's Whitetail Workshops.
Driving 10 hrs was a small price to pay for such an up close and intimate view of the things we read about. I encourage any bowhunter who is serious about getting an opportunity to harvest mature bucks, to seize the chance at spending some time and learning from the " MR. REAL " of the Bowhunting world. Thanks for letting us peak into the gear room of the Eberhart way.
Greg Nowak
P.S. the saddle hunting approach I learned from John, is the only way I could look my wife in the eyes and honestly keep the promise I made her: "I nor my kids would ever fall from a tree stand."
______________________________________
I've hunted deer with a gun for over 25 years and with a bow for 8 years and while I've been somewhat successful, I've never taken anything big enough to hang on the wall. I know there are big bucks in my area but have always felt I was making some minor mistakes, I just didn't know what they were.
After attending John's in/field day class and seeing exactly how he prepared each of the 14 locations we visited concerning; why this location, each locations seasonal and daily timing, tree choice, shooting lanes, height in each tree based on many variables, entry and exit routes, scent control, etc., the mistakes I was making became very apparent I didn't have to break the bank to adopt what John does.
My family and I love venison and main reason I deer hunt is for the meat and the other reasons are for the sheer enjoyment of being in the woods and enjoying nature. But I still have the desire to step my bowhunting skills up a notch or two and take some wall hanger's to preserve the memories and being able to actually see the detail John puts into everything he does definitely did that.
If you follow John's techniques you'll have exactly that, more success on mature animals. John's success in heavily pressured areas speaks for itself.
Leonard Schrock – Michigan landowner
____________________________________