– About Us –
John is an avid deer hunter that's hunted whitetails in Michigan for 53 years and for 21 seasons out of state.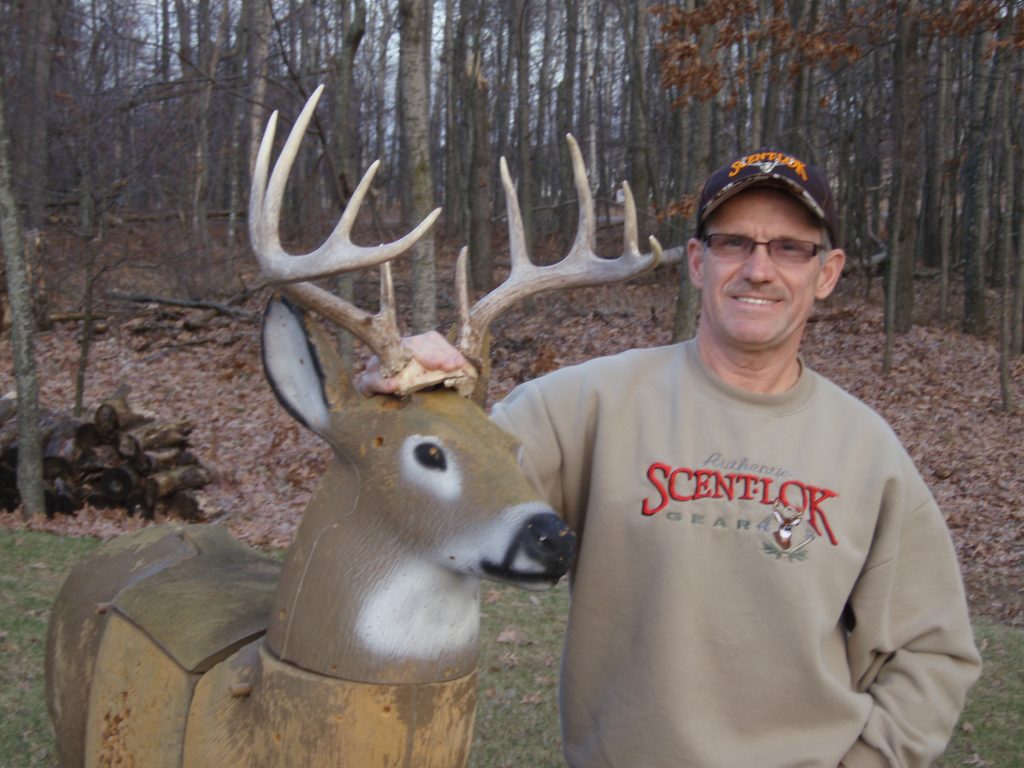 John is a self-taught hunter and considers that to be one of the main reasons he does things outside the norm. He attributes his success on the very fact that he wasn't mentored by relatives or friends on old school hunting methods. He learned through trial and error and due to his serious nature, desire to succeed and attention to detail, through the years he's developed tactics and strategies that have equated to consistent success on mature bucks in heavily pressured areas.
John became aware many years ago that the generic hunting methods and techniques written in hunting articles, books, and shown on TV and in videos just didn't work in heavily pressured areas and decided to do something about it to help other average Joe hunters like himself be successful.
The reality is that most nationally known hunting personalities hunt on limited access micro-managed properties or ranches with high mature buck to doe ratios and those properties and herd compositions grossly misrepresent the normal hunting conditions for the vast majority of hunters. Generic hunting methods work on the properties the so-called experts hunt but those same techniques, tactics, and strategies will rarely yield results on the few bucks that survive to maturity in heavily pressured areas that seemingly have PHD's at avoiding hunters.
John's hunting resume goes something like this:
Age: 66 
Year's bowhunting: 53
Currently has 30 bucks listed in the Commemorative Bucks of Michigan record book coming off 19 different properties in 10 different counties with many coming from public land
Took the Michigan state record muzzleloader buck in 1981 from public land and that has been the only state record buck to come off state land
In 1997 began bowhunting out of state during Michigan's gun season and to date has taken 19 P&Y class bucks from 13 different properties on his 21 week long out of state hunts in 5 different states
Has never owned, leased, or paid a dime to hunt anywhere opting to exclusively hunt public, free walk-on, and knock-on-doors for free permission properties whether in Michigan or out of state
Has never hunted over bait or a food plot
Due to the misrepresentation by most of the hunting media pertaining to "hunting in the real world" John along with his son Chris wrote the books "Bowhunting Pressured Whitetails", "Precision Bowhunting", and "Bowhunting Whitetails the Eberhart Way" (all published by Stackpole Books)
Wrote the manuscript, produced, hosted and narrated the 3 volume, 100% instructional bowhunting DVD series titled "Bowhunting Presssured Whitetails" which is a visual of the books and leaves no stone unturned in covering every aspect of bowhunting whitetail deer
With the aid of certified professional archery instructors Bryan Scupbach and Russ Strong, narrated and produced an instructional DVD titled "Archery Mechanics" which includes everything from A to Z on; choosing a bow and accessories, proper shooting form, properly shooting from elevations, bow energy ratios, deciphering correct draw lengths, and much, much more
Has written instructional bowhunting articles for Deer & Deer Hunting, Peterson's Bowhunting, Bowhunting World, Bowhunter Magazine, Bow and Arrow Hunting, Mathew's Bow Hunting, Michigan Sportsman, Michigan Out-of-Doors, Wisconsin Outdoor News, Woods & Water News, Outdoor News, and other regional magazines
Has been interviewed for articles in Outdoor Life, Fur Fish Game, North American Whitetail, Archery Business, Bowhunting World, and other magazines
Has done instructional bowhunting TV shows for American Archer, Michigan Out-of-Doors, and Scent Lok infomercials
Has done podcasts for Wired-to-Hunt and Avery's Outdoor Magazine Radio Show and a few others he can't remember
Has done interviews and written short instructional clips for many industry related media outlets
Given many seminars on bowhunting pressured whitetails at the Wisconsin, Ohio, and Michigan's Deer Expo Spectaculars as well as for many hunting organizations including some QDM organizations
Aided Rivers West in designing their "Ambush Jacket" which won Field & Streams "Best of the Best" outdoor hunting garment award in 2005
Has been involved in new garment designs for Scent Lok and Rivers West
Is a pro staffer for Carbon Express, Mathews. Rivers West, Scent Lok, G-5, Cranford Treesteps, Grabber Warmers, Tinks, and Quaker Boy game calls
John also wanted to make it perfectly that he would never endorse a product he doesn't use or believe in. John only endorses products that he believes are the best in their specific hunting category